Countdown Clock 20 DAYS TO GO
Food is something everyone can get onboard because when we get hungry, we eat! The preparation alone is exhausting just thinking about it. Christmas at the house is packed full of everything we could possibly eat on the day and that…
There must be some favourites that come out every year like Mince pies, Cranberry sauce – TURKEY…we will be talking about some of our own, starting with the starters:
Jay: Oh I love, but I try not to fill up too much. Usually its chicken skewers, pigs in blankets, fruit kehbabs – if I'm feeling healthy. Lets just say that there are more than a few cocktails sticks in the bin at the end of the day.
Ally: We don't really do starters but we do have little canapes, it's normally because we have christmas brunch. But, we have little nibbles like brie and cranberry parcels, salmon with cream cheese and things like that… because let's face it the main event is the dinner and we don't want to ruin our appetite!
Lets talk Meat, the star of the show:
Jay: I'm so blessed than on my table, you could have multiple (depending on how mum feels): Turkey, Duck, Gammon, Lamb, Chicken – one year we had Lobster… I'm getting hungry just thinking about it!
Ally: We normally just stick to Turkey and a delicious home cooked Christmas ham that there is never enough of!
Okay okay, what about the sides? Any brussel sprouts fans here?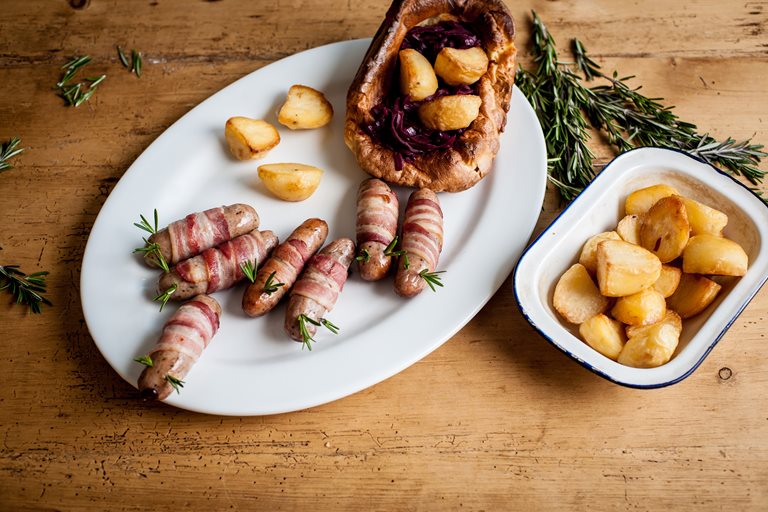 Jay: Lool😂 no, the sides can vary: different kinds of veg (steamed, coleslaw). Potatoes (mashed, roast, gratin, salad). Pasta (salad, mac 'n' cheese) Plus any starter stragglers
Ally: Steamed veggies, cauliflower cheese, roast potatoes, pigs in blankets, stuffing… all the usual fixin's. God, I'm salivating! But the most important thing is the homemade gravy! The gravy makes or breaks the meal in my opinion.
Mmmmmhhmmm, so after filling up on all that, is there room for dessert??
Jay: For me, not really but if it's Cheesecake then ABSOLUTELY!
Ally: Well… there is christmas cake, Yule log, the cheese board, chocolates and everything else under the sun.
What are some of your christmas food must haves? Why not add a new one this year?
Pls Follow! Socials: Twitter @oms_oma ~ Insta @onems_onema ~ Facebook One More Story, One More Adventure